Published on August 29, 2023 by
Pioneer Valley Railroad will become firm's sixth short line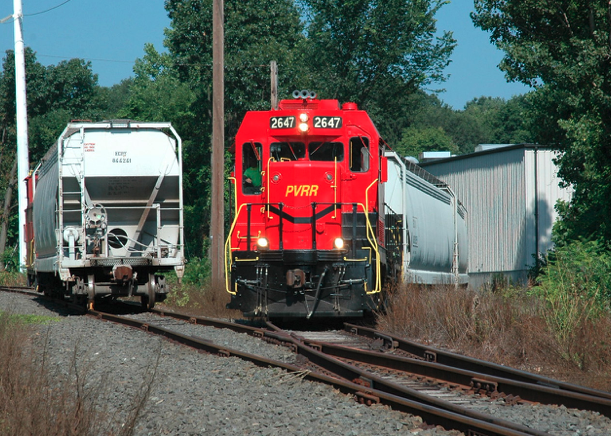 Pioneer Valley Railroad CF7 No. 2647 switches a covered hopper. PVRR
WASHINGTON – Macquarie Infrastructure Partners is acquiring Massachusetts short line Pioneer Valley Railroad from its founder, Pinsly Railroad Co., according to a regulatory filing.
Through Gulf & Atlantic Railways, Macquarie currently owns five railroads, including the 228-mile Grenada Railroad in Mississippi; the 430-mile Florida Gulf & Atlantic; 14-mile Camp Chase Rail in Ohio, the 28-mile Chesapeake and Indiana Railroad in Indiana, and the 8.4-mile Vermilion Valley Railroad in Illinois and Indiana. The latter three lines were purchased earlier this year [see "Gulf & Atlantic completes acquisition …," Trains News Wire, May 16, 2023].
The PVRR will be housed in Macquarie's Gulf & Atlantic Railways subsidiary. The PVRR's sister company, Railroad Distribution Services, provides warehousing, logistics and transload services and is included in the deal.
"PVRR and RDS are well-respected short line railroad and rail-served warehousing and distribution platforms, with an exceptional focus on safety, a fantastic team, and a diversified revenue base," Gulf & Atlantic Railways CEO Ryan Ratledge said in a statement. "The employees are talented, highly experienced professionals. We look forward to working with them to continue Pinsly's track-record of safe, efficient rail and distribution service to customers and welcoming them to our growing team."
The Pioneer Valley Railroad was formed in 1982 and has 30 customers, including industries, warehouse operations, and transload facilities in the cities of Westfield and Holyoke, Mass. It interchanges with CSX in Westfield and Pan Am Southern in Holyoke.
"We are very pleased to have reached an agreement to transition our Massachusetts business to GAR," Pinsly CEO John Levine said in a statement. "Pinsly has a long-standing commitment to safety, service, business development and capital investment. We believe GAR will be a great steward of our business and that Pinsly will add to the already outstanding and growing GAR rail transportation infrastructure platform."
The railroad operates 27 miles of former New York, New Haven & Hartford trackage, including 18 mainline miles, all in Massachusetts.
Note: Updated at 9:40 a.m. Central Time with comment from Gulf & Atlantic and Pinsly.